Congratulations to the 2013 Dr. P.B. Poorman Award Recipient
---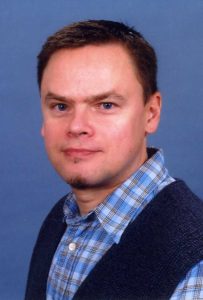 Dejan Kuzmanovic is an Associate Professor of English at UW-Stevens Point. Inside the classroom, Dejan builds positive relationships with his students and continually looks for ways to improve his teaching methods. In addition to teaching specialized courses in the areas of Lesbian and Gay Literature and Queer Studies, Dejan includes LGBTQ content in other courses, as well. In fact, Dejan developed and taught the only course offered at UWSP with the words "Gay" and "Lesbian" in the title. Michael Williams, a colleague who is also the Chair of the Department of English, praises Dejan's service as a reflection of his commitment and "desire to affect positively the climate" for everyone.
Dejan has an outstanding record in his discipline and in service to the UW-Stevens Point community. In 2011, Dejan was awarded a year-long sabbatical to work on a book manuscript entitled "Oscar Wilde, E.M. Forster and the Twenty-First Century Queer Dilemmas." That project, still in progress, is based on Dejan's cumulative research and scholarship in Queer literature. In 2004 Dejan received grants from both UW-Stevens Point and Cornell University to attend the School of Criticism and Theory at Cornell, and take a seminar with Yale University Professor Michael Warner. In 2007, Dejan received a grant to participate in the National Endowment for the Humanities seminar on Oscar Wilde at the University of California, Los Angeles. He also has contributed multiple entries to the "Encyclopedia of Lesbian and Gay Histories and Cultures."
Dejan is actively engaged in advancing Inclusive Excellence (IE), and has served as the UWSP representative to the UW System Inclusivity Initiative for LGBTQ People since 2005. As a member of UW-Stevens Point's Inclusive Excellence Core Team, Dejan has actively engaged IE principles through his work in Women's and LGBTQ Studies, the establishment of Safe Zone Workshops, and by hosting various webinars from Campus Pride such as "Coming Out as an Ally: From Bystander to Upstanders."
Outside the classroom, Dejan was a founding member of the Faculty and Staff Gay-Straight Alliance (FSGSA) and served as the Chair from 2006-2011. Throughout his tenure as Chair of the FSGSA Board, Dejan provided strategic leadership for the implementation of several transformative LGBTQ efforts and programs. FSGSA successfully advocated for the establishment of a student LGBTQ Coordinator position. The group has also advised UWSP's administration in its response to homophobic incidents on campus. In 2011-12, the FSGSA held the first "Lavender Graduation" to recognize graduating LGBTQ students.
He is still active on the FSGSA Executive Board and has conducted over 20 Safe Zone Workshops in the last five years. Dejan has presented several papers and led workshops at conferences around the state, including his presentation "Teaching Gay and Lesbian Literature in the Spirit of Inclusive Excellence," delivered at the UW System President's Summit in April 2010.
Dejan has worked to develop productive dialogues within and between minority and majority groups, and has embarked on a formal study of how deeper understanding of interpersonal difference related to sexual orientation and gender identification contributes to academic, professional and personal success. He has also advocated for the critical importance of paying attention to other forms of diversity, such as race, ethnicity, nationality, and religion, all of which impact people's understanding of sexual orientation and gender identification.
Dejan's students show themselves to be enthusiastic learners who benefit immensely from his expansive knowledge of his discipline, his caring, kind and concerned manner, and his respect for them as students. His research has made him the ideal person to develop and teach highly successful sophomore- and upper-level courses on Gay and Lesbian Literature. Michael Williams, Dejan's faculty colleague, wrote the following in his nomination of Dejan: "[He is] simply a highly intelligent, considerate person who's thoroughly committed to his work, profession, and community. His highly effective classroom organization skills, thoughtful and clear presentation of a wide variety of materials, and his positive relationships with students combined with his rigorous conferencing schedule," all provide evidence of Dejan's exceptional abilities, boundless energy, passion, and commitment to excellence.
Professor Williams further stated, "…it is no exaggeration to say that every aspect of (Dejan's) professional life reflects his commitment to improving the lives of members of the LGBTQ community." For his part, Dejan wrote in his nomination statement that it is both a humbling and proud experience to be associated with previous distinguished recipients of the P.B. Poorman Award, as well as Dr. P.B. Poorman herself. Humbling though the award might be, all who know Dejan understand how much he deserves this Award.