Congratulations to the 2014 Dr. P.B. Poorman Award Recipient
---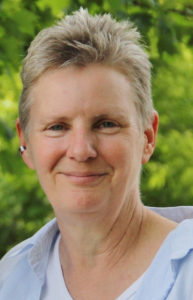 Julie Miller is the LGBTQ program coordinator and director of The Qube at UW-Stout.  Julie has worked tirelessly to create a campus environment welcoming to LGBTQ+ students, faculty, and staff.  Her efforts go beyond the campus to impact community members in Menomonie, area high school students, and individuals throughout Wisconsin.  She practices the mission of the Inclusivity Initiative for LGBTQ+ People throughout her work by advocating for and encouraging students' success in academic and co-curricular activities and by supporting their journeys to self-actualization.  Ann M. Hoffman, a colleague who is also the assistant director for university housing at Stout, praises Julie's attitude which "exhibits an attitude that assumes the best in people.  Her friendly, non-judgmental and respectful style when engaging others allows them to feel comfortable.  They then take risks and learn more easily about LGBTQ people."
Julie is a seasoned presenter.  Naturally, some of her presentations are given to campus groups and departments.  These include Safe Space training and a recently developed LGBTQ 101 presentation.  Julie also goes beyond the campus to present to networks and organizations on anti-LGBTQ+ bullying, harassment, and cyber bullying.  She also presented to the Wisconsin Association of College Registrars and Admissions Officials on proactive strategies for recruiting LGBTQ+ students and making campuses more LGBTQ+-friendly.  Julie also collaborates with faculty, and helped write a grant to bring Dr. Gavi Ansara to Wisconsin to present information and best practices for mental and physical health providers serving intersex and trans* people.  Professionals from several UW System campuses and health agencies from Wisconsin and Minnesota attended the workshops.
One of Julie's important contributions has been advocating for and helping to develop a preferred name option at UW-Stout.  This initiative is complex and requires collaborating with multiple campus departments to develop an option that recognizes that students may use names other than that assigned at birth.  This allows trans*, and ultimately all students, to identify in a way that recognizes their self-identity and autonomy.  UW-Stout effectively implemented the option for students this year, in large part due to Julie's advocacy.  Another of Julie's significant accomplishments at UW-Stout is The Qube, an LGBTQ+ resource center and gathering space open to all students, faculty, and staff. Julie organized and collaborated with others to furnish, supply, and staff The Qube.  By working to create this space, Julie played a pivotal role in adding to the services which demonstrate that UW-Stout supports and welcomes LGBTQ+ people.
Julie values and nurtures collaboration.  Alongside the staff of Multicultural Student Services, Disability Services, and Student Support Services, she coordinated the "Keep It Real" Conference for UW-Stout students.  Students praised the event after engaging in discussions about the intersections of race, sexual orientation, ability, micro-aggressions, and resiliency.  Another significant new event created by Julie and supported by the Gender and Sexuality Alliace and The Qube staff is the "Qubie Gayla."  This signature event, attended by more than 160 people, celebrated students, staff, faculty, and community members by recognizing their accomplishments and advocacy for LGBTQ+ people.  Julie also collaborates with the Provost's Office to organize Rainbow Graduation, one of the first of several annual events she advocated for at UW-Stout.  She also works with the faculty and staff Pride Alliance and brings the student voice and perspectives to their discussions. Over and above her regular responsibilities, Julie reviewed UW-Stout webpages, forms, and policies and identified changes to make them more gender inclusive.
Each of these collaborations and efforts has positively impacted students.  LGBTQ+ students feel affirmed and validated while allied and other students continue to grow in understanding.  One of Julie's nominators wrote "community members, encouraged by Julie's acceptance of all, reached out to collaborate on developing a PFLAG chapter and creating statements of welcome and inclusion in church congregations.  Julie grows allies across the campus and the community as much as she supports LGBTQ people in developing their self-identities.  Her open and accepting attitude is critical to all of her work and is the core of her success."
For her part, Julie wrote in her nomination statement that it is "an honor to be nominated for the Dr. P.B. Poorman Award in 2014, a year that marks my 30th anniversary of coming out and living openly as a lesbian woman in all aspects of my life.  I would like to give the credit for the advancements we've made to the people who really made them come about: the students, staff, and faculty of UW-Stout.  Like all LGBT activists who have made it from newbie to old timer, I've witnessed and had a hand in a great deal of progress in the past 30 years.  None has been more important to me than being a part of creating a sustainable program at UW-Stout that supports the many LGBTQA students, staff, and faculty on this great campus.  To be considered for the 2014 Dr. P.B. Poorman award as a result of this work is indeed an honor."
All who know Julie Miller understand how much she deserves this award.