Congratulations to the 2012 Dr. P.B. Poorman Award Recipient
---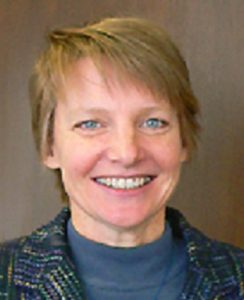 Lisa Beckstrand worked as an Academic Planner for the Academic Programs & Educational Innovation team at UW System Administration (UWSA). At UWSA, Lisa was a valued team member in the areas of Academic Program Planning & Review and International Education & Engagement. Lisa also served as Co-Director, and then Director, of the UW System Inclusivity Initiative for LGBTQ People from 2006 to 2010.
As Director of the UW System Inclusivity Initiative for LGBTQ People, Lisa provided valuable leadership on a range of issues and projects that helped to improve campus climate, educational outcomes, and workplace equality for people who identified as LGBTQ. Lisa always acknowledged that she did not do the work alone, though the value of her dedication, coordination, and perseverance is without question. Her work included: advocating for the establishment of domestic partner benefits at UW System institutions; providing system-wide support in response to the 2008 state referendum against marriage equality; advancing policies and practices that are inclusive of all gender identities; and providing coordination for the first two tiers (9 total institutions) of the system-wide Campus Climate Study.
Lisa completed her Ph.D. in French Literature from UW-Madison in 1997. During this time, she taught French as an instructor at Lawrence University from 1993-1996, and UW-Oshkosh from 1996-97. After receiving her doctorate, Lisa taught French at Concordia College (Moorhead, MN), Montclair State University (Montclair, NJ), and the New School (New York, NY).
While Lisa had a love of the French language, she used her scholarship to question cultural constructions of sex, gender binaries, and systems of oppression. She also used it to illustrate how individuals could "create alternative and viable identities of self and gender". Her book Deviant Women of the French Revolution and the Rise of Feminism examines "nonconformist acts of self-assertion" by women writers during the French Revolution. Through this work, Lisa illustrated how transgressive acts can challenge institutionalized notions of normality, enact political change, and redefine gender roles.
Lisa's peers described her as impactful, witty, generous, inquisitive, a true leader, cheerful, dedicated, a person of integrity, welcoming, and a fighter.