A UW-Superior academic program is preparing graduates for key jobs in the nation's economy.
UW-Superior graduate Brian Granholm stands alongside some of the railcars he orders for his job. They move essential materials like coal, wood and iron ore. They make sure manufactured products are shipped at the lowest cost. They get parts to the factory floor just in time. They help stores keep their shelves full.
They are graduates of the Transportation and Logistics Management program at the University of Wisconsin-Superior. This innovative academic major prepares people for entry-level management jobs related to efficiently moving and distributing people, products and materials. Since the program began in 1999, graduates have landed impressive jobs around the world at a wide variety of employers of all sizes.
Graduates in demand
Dr. Richard Stewart has seen the TLM program grow from three students in its first year to the current enrollment of 90. Employer demand for graduates has always been strong,even during economic downturns. Many have jobs lined up before they receive their diplomas.
"We have more offers of jobs than I have students," Stewart said. "Employers call me asking me to send them students. I have graduates of the program contacting me asking me to send students."
Many grads work nearby
The program attracts students to UW-Superior, and a significant number find good jobs around the region after graduating. The list of their employers in Superior and northwestern Wisconsin is an impressive one: Amsoil, Enbridge, BarkoHydraulics, Halvor Lines, Charter Films, Upper Lakes Foods, Midwest EnergyResources, Jack Link's, Lac Courte Oreilles Ojibwa Community College, and more.
Cross the river into the Duluth area and the list gets even longer: Cliffs Natural Resources,CN/Great Lakes Fleet, St. Luke's Hospital, Upper Lakes Foods, Lake Superior Warehousing, and Lake States Lumber. U.S. Steel and Cliffs Natural Resources employ graduates at mining operations in northeastern Minnesota.
Graduates work around the world
Farther afield, TLM graduates work for employers like trucking companies, railroads,manufacturers and distribution centers across the country. Some are working for new Wisconsin companies that have sprung up recently to mine and ship "frac sand" to oil drillers. Others work in Canada, the Czech Republic and Azerbaijan.
Transportation and warehouse supervisor
Among the program's graduates is Joe Schiff, transportation and warehouse supervisor for Charter Films, a company that manufactures plastic films in Superior. He landed his job a month before he graduated in 2007.
Schiff started out coordinating product shipments and advanced to a supervisory role. He now oversees four people who move products and load trucks at the company's warehouses. He makes sure the paperwork is in order for each outbound load and talks to drivers before they depart. Each day he's calling and e-mailing local and national trucking companies to keep Charter's products moving to customers.
"I supervise our warehouses and coordinate all of the finished product that leavesthe plant," he said. "I talk to our customer service representatives, who talk to our customers to figure out what they need. We make sure we get it there efficiently, cost-effectively, and intact."
Logistics coordinator
Over in Duluth, Brian Granholm works as logistics coordinator at Lake Superior Warehousing Inc. From his office at the Duluth port terminal, the 2002 graduate orders and schedules many of the 4,000 railcars and some of the 17,000 trucksthat haul products in and out of the company's warehouses. He also works on warehousing various products until they can be shipped out to customers.
"The challenging part is that it's always something different," Granholm said, "but that's also one of the best things about the job."
Working around the country
Some UW-Superior graduates are based in the Twin Ports but work on transportation and logistics operations around the country.
Kate Ferguson, a 2006 graduate, is sales, marketing and traffic manager for CN/Great Lakes Fleet, the Duluth-based operator of a fleet of Great Lakes freighters. Her job takes her from Pittsburgh to Minnesota's Iron Range as she visits customers, makes sales calls and develops new business opportunities for the fleet.
Candice Belich, a 2008 graduate, works as a traffic coordinator at Midwest Energy Resources Company. While her office is located at the company's coal transshipment facility in Superior, her focus is on scheduling trains that carry environmentally friendly low-sulfur coal from mines in Wyoming and Montana to Detroit Edison generating plants in Michigan. She also helps manage Detroit Edison's fleet of railcars, and she schedules lake freighters that carry coal from ports on Lake Erie to Detroit.
Internal logistics
Some people working in logistics focus their attention inside their company.
Alissa LaValley, a 2002 graduate, is an inventory controller for Cliffs Natural Resources in Duluth. She tracks more than 300,000 items in the company's catalog to ensure employees have what they need – from spare parts to giantdump trucks – to run the company's iron ore mines and processing plants in northern Minnesota.
"I do a lot of analysis of inventory," she said. "We're constantly buying new equipment and trading older things for newer technology."
Graduates praise TLM program
Graduates of the Transportation and Logistics Management program praise Stewart for building an academic experience that acquaints them with the industry, grounds them in basic knowledge, and offers opportunities to gain experience in work, research and professional development. The major combines courses in transportation and logistics with courses in geography, marketing,economics, finance, law, mathematics and computer information systems.
Baker, of Lake States Lumber, enrolled at UW-Superior after spending years as a diesel engine mechanic and working in the supply chain for the U.S. Army's 101st Airborne Division. Even with his experience, he found the program useful.
"I came into the program with a pretty good background, but the degree greatly enhanced that," he said. "It opened my eyes to different things and fine-tuned my skills."
Tours and networking
"Dr. Stewart went out of his way to find opportunities for us," LaValley said. "Just taking tours of local facilities was important so we could see what it is like to be out in the world. We also had a lot of networking opportunities, where we could meet people in the business community."
Internships vital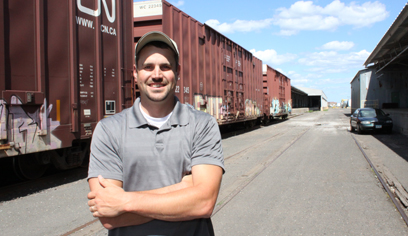 The graduates agree that internships are important. Ferguson spent 13 months learning and working as an intern for CN/Great Lakes Fleet. A few days after her internship ended, she returned to the company as a new employee.
"The internship is critical to success. It was vital to my current employment and my career path," she said.
Demand for graduates strong
For Stewart, continuing job demand by industry shows the need for the Transportation and Logistics Management program is strong. To meet that demand, he spends a lot of time acquainting students with the career opportunities available in the field.
The Transportation and Logistics Management program is particularly popular among students over age 24, military veterans, international students, students who transfer to UW-Superior from other schools, and students who arrive on campus without having chosen a major.
Employer support
A key reason for the growing success of the Transportation and Logistics Management program, Stewart stresses, is community support. Local employers helped guide the creation of the program, and they provide constant input through an advisory board.
Even more important, employers in Superior and Duluth help educate the students. They offer internships. They send experts to talk to classes. They provide tours of their facilities, giving many students their first close-up look at a railroad locomotive or the inside of a warehouse. They also provide scholarships,fellowships and endowments that support students.
And, local employers hire graduates.
All that,Stewart emphasizes, is critical to the program.
"This program was desired by the community and thrives because of community support," Stewart said. "Without that support, success would not be possible."