Winter slip, trip and fall (ST&F) prevention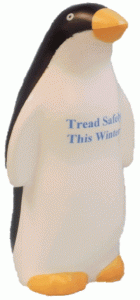 The hazards of winter weather are well-known to the majority of our employee base, most of whom have experienced many Wisconsin winters. The main two components of winter slip, trip and fall prevention are grounds maintenance and employee behavior.
Winter ST&F prevention campaign material, 2014-15
Current plans are to have a variety of posters and other promotional materials for use by UW System institutions in time for the 2014-15 winter season.
Details and availability will appear here later in Fall 2014.
Disclaimer
This publication was prepared for environmental, health and safety staff at University of Wisconsin System campuses, to assist in finding resources and information for regulatory compliance. It is not intended to render legal advice.