General description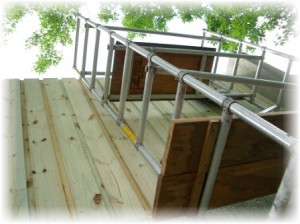 Scaffolds are used by campus employees for a variety of applications. In a Bureau of Labor and Statistics (BLS) study, 72% of workers injured in scaffold accidents attributed the accident either to the planking or support giving way, or to the employee slipping or being struck by a falling object. All of these can be controlled by following your scaffold safety rules.
General regulatory citations (federal and Wisconsin)
Public employees in Wisconsin are covered by reference through various OSHA scaffold standards adopted for public employee safety (see Wisconsin Administrative Code, SPS 332.50). The rules in title 29 of the Code of Federal Regulations (CFR) most likely to apply to campus employees would be:
1910.28, Safety requirements for scaffolding
1910.29, Manually propelled mobile ladder stands and scaffolds (towers)
1926 Subpart L — Scaffolds
Employee training
A list of training topics for employees who work on scaffolds:
The scope of the rules
Common scaffolding terms
The training requirements for employees
Electrical safety
Fall protection
Guardrail systems
Falling object protection
Load capacities
Proper materials handling
Inspection requirements
Damaged components
Safe access to scaffold platforms
Hazards of increasing the working heights on a scaffold platform
Moving scaffolds
Erecting and dismantling scaffolds
References and other resources
Disclaimer
This publication was prepared for environmental, health and safety staff at University of Wisconsin System campuses, to assist in finding resources and information for regulatory compliance. It is not intended to render legal advice.