Personal Protective Equipment
Overview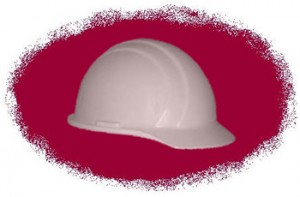 Head protection is needed when employees work in any of the following areas that cannot be eliminated through engineering or work practice controls:
Areas in which objects might fall from above and strike them on the head;
Areas in which there could be head contact with electrical hazards; or
Areas in which they might bump their heads against fixed objects, such as exposed pipes or beams.
See the hazard assessments section on our Personal Protective Equipment (PPE) webpage for information about conducting a hazard assessment.
Helmet classes and types
Listed below are the common helmet designations, depending on the ANSI standard under which they were approved.
ANSI Z89.1-1986

ANSI Z89.1-1997 and 2003

Impact and Low Voltage Electrical Protection
Class A
Class G (General)
Impact and High Voltage Electrical Protection
Class B
Class E (Electrical)
Impact protection only
Class C

Class C (Conductive)

Types
Type 1 – full brim (the brim fully encircles the dome of the hat)
Type 2 – no encircling brim, may have a short bill on the front
Type I – protection strictly from blows to the top of the head
Type II– protection from blows to both the top and sides of the head
Areas and personnel affected
Anyone exposed to a workplace hazard that could injure the head needs to be protected from that hazard. The most common situations to consider for head protection are for employees working on construction or demolition activity, or in tight mechanical spaces.
Consideration should be given to Appendix B of OSHA's PPE standard for general industry (item 9, Selection guidelines for head protection). In addition to selection and hazard assessment guidelines, there is a list of occupations to consider for head protection, including: "carpenters, electricians, linemen, mechanics and repairers, plumbers and pipe fitters, assemblers, packers, wrappers, sawyers, welders, laborers, freight handlers, timber cutting and logging, stock handlers, and warehouse laborers."
Training and employee information
Employees must get information and training that enable them to be apprised of the hazards present in their work, and to understand the correct use of personal protective equipment. The minimal training requirements are in 29 CFR1910.132(f). In summary, campuses must train each employee who must use PPE to know and demonstrate the following items prior to using the PPE :
When PPE is necessary.
What PPE is necessary.
How to properly put on (don), take off (doff), adjust and wear the PPE.
The limitations of the PPE.
Additional training or retraining of employees needs to be done when a previously trained employee is not demonstrating the proper understanding and skill level in the use of PPE, or when there are changes in the workplace or in the type of required PPE that make prior training obsolete.
Regulations, interpretations and standards
OSHA
In addition to the following regulations, the OSHA regulations state that eye and face protective devices must comply with certain consensus standard (see section on Consensus Standards below).
29 CFR 1910.135 – Head protection
29 CFR 1910.132 – General requirements – Includes the hazard assessment and training requirements.
29 CFR 1910, Subpart I, Appendix B, –  Non-mandatory compliance guidelines for hazard assessment and personal protective equipment selection.
OSHA Letters of Interpretation
There are numerous OSHA letters of interpretation concerning personal protective equipment. Go to the OSHA Standards Interpretation page for General Industry and you can search by keyword, or by regulatory section (PPE regulations in Subpart I appear in 1910.132–1910.138).
OSHA Directives
OSHA Directive CPL 02-01-050. 29 CFR Part 1910, Subpart I, Enforcement Guidance for Personal Protective Equipment in General Industry.
Wisconsin Department of Safety and Professional Services
The Wisconsin Department of Safety and Professional Services (DSPS) adopted OSHA's Subpart I Personal Protective Equipment (PPE) standards, and other PPE requirements in other specific standards, as the rule for public employees in Wisconsin. No modifications or amendments have been adopted.
Consensus Standards
The OSHA regulations state that head protection must comply with any of the following consensus standards:
ANSI Z89.1-2003, "American National Standard for Industrial Head Protection";
ANSI Z89.1-1997, "American National Standard for Industrial Head Protection"; or
ANSI Z89.1-1986, "American National Standard for Personnel Protection — Protective Headwear for Industrial Workers—Requirements."
Reference material, files, and websites
Reference material for this webpage includes the following:
Hard Hat Requirements; Quick Tips Technical Document 241, Grainger Safety.
Disclaimer
This publication was prepared for environmental, health and safety staff at University of Wisconsin System campuses, to assist in finding resources and information for regulatory compliance. It is not intended to render legal advice.