Personal Protective Equipment
Overview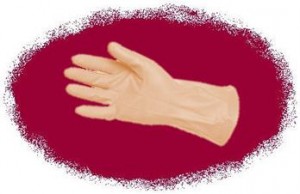 When a workplace hazard assessment shows that employees may encounter injury to hands and arms that cannot be eliminated through engineering and work practice controls, supervisors must require that the employees wear appropriate protection. Potential hazards include skin absorption of harmful substances, chemical or thermal burns, electrical dangers, bruises, abrasions, cuts, punctures, fractures and amputations. Protective equipment includes gloves, finger guards and arm coverings or elbow-length gloves. See the hazard assessments section on our Personal Protective Equipment (PPE) webpage for information about conducting a hazard assessment. Campus management and supervisors should explore all possible engineering and work practice controls to eliminate hazards and use PPE to provide additional protection against hazards that cannot be completely eliminated through other means.
Types of Protective Gloves
With a wide variety of hazards and resultant injuries that can occur, selecting the right glove can be a challenge. Both the hazard and the activity affect glove selection. Some of the needs that can inform the glove selection process include:
What needs protection?
What are the grip and dexterity needs?

Is the work in dry, wet, or oily conditions?
Is fine dexterity needed?

Is chemical protection needed?

Type of chemicals handled.
Nature of contact (total immersion, splash, etc.).
Duration of contact.

Is other protection necessary?

Thermal
Electrical
Vibration
Cuts and punctures
Wear and abrasion resistance
What are the size and comfort requirements?
It is important for employees to use gloves specifically designed for the hazards and activities found on their job. Gloves designed for one activity/hazard may not adequately protect during a different activity/hazard. Fortunately, there are many types of gloves that protect against a variety of hazards. Generally, gloves fall into four categories:
Leather, canvas or metal mesh gloves
Fabric and coated fabric gloves;
Chemical- and liquid-resistant gloves;
Insulating rubber gloves.
Areas and personnel affected
Anyone exposed to a workplace hazard that could injure the hand or arms need to be protected from that hazard. Areas and personnel most likely to need hand/arm protection include:
Laboratories and laboratory personnel (staff and students)
Certain art studios and workshops (staff and students)
Physical plant/facilities staff
Auxiliaries staff
Custodial staff
Laboratories
There are many resources for laboratory staff to take advantage of when selecting PPE for the hands. Some of these are listed below:
Northwestern University — Allergic Reactions to Glove Materials, a web page that describes both irritant contact dermatitis and immune reactions by some users to certain gloves.
Grainger — see the following Quick Tips Technical Resources.
Training and employee information
Employees must receive information and training that enable them to be apprised of the hazards present in their work, and to understand the correct use of personal protective equipment. Laboratory employees generally need to be trained through their chemical hygiene plan, which should at least meet the requirements of 29 CFR 1910.1450(f), or requirements of 29 CFR 1910.132(f). For all other employees, the minimal training requirements to be met appear at 29 CFR 1910.132(f).
Regulations, interpretations and standards
OSHA
OSHA Letters of Interpretation
There are numerous OSHA letters of interpretation concerning personal protective equipment. Go to the OSHA Standards Interpretation page for General Industry and you can search by keyword, or by regulatory section (PPE regulations in Subpart I appear in 1910.132–1910.138).
OSHA Directives
OSHA Directive CPL 02-01-050. 29 CFR Part 1910, Subpart I, Enforcement Guidance for Personal Protective Equipment in General Industry.
Wisconsin Department of Safety and Professional Services
The Wisconsin Department of Safety and Professional Services (DSPS) adopted OSHA's Subpart I Personal Protective Equipment (PPE) standards, and other PPE requirements in other specific standards, as the rule for public employees in Wisconsin. No modifications or amendments have been adopted.
Consensus Standards
ANSI/ISEA 105. For hand protection, there is an ANSI standard not referenced by OSHA's general industry PPE regulation: the American National Standard for Hand Protection Selection Criteria, ANSI/ISEA 105-2011. This standard is designed to assist users and employers to select appropriate gloves for identifiable workplace hazards that could result in chemical burns, severe cuts and lacerations, and burns caused by heat and flame exposures.
Reference material, files, and websites
NIOSH Pocket Guide to Chemical Hazards – The Pocket Guide is a source of general industrial hygiene information on several hundred chemicals/classes found in the work environment.
PPE Glove's Chemical Resistance Ratings. Virginia Cooperative Extension; Publication 2910-1416; 2009. This publication uses information from the EPA's pesticide website to provide a one-page selection summary of personal protective equipment selection for gloves, listed by the pesticide category.
Disclaimer
This publication was prepared for environmental, health and safety staff at University of Wisconsin System campuses, to assist in finding resources and information for regulatory compliance. It is not intended to render legal advice.