Personal Protective Equipment
Overview
Noise, or unwanted sound, is one of the most pervasive occupational health problems. Exposure to high levels of noise causes hearing loss and may cause other harmful health effects as well. The extent of damage depends primarily on the intensity of the noise and the duration of the exposure.
Noise-induced hearing loss can be temporary or permanent. Temporary hearing loss results from short-term exposures to noise, with normal hearing returning after period of rest. Generally, prolonged exposure to high noise levels over a period of time gradually causes permanent damage.
OSHA's hearing conservation program is designed to protect workers with significant occupational noise exposures from hearing impairment even if they are subject to such noise exposures over their entire working lifetimes.
This page has extended content. To open or close all extended content, use this button. 
Provisions of the regulation
This section summarizes the main components of a hearing conservation program.
Action level and implementation of hearing conservation program
When information indicates that any employee's exposure may equal or exceed an action level of an 8-hour time-weighted average of 85 decibels (dB), the campus must develop and implement a monitoring program. Employers are required measure all continuous, intermittent, and impulsive noise within an 80 dB to 130 dB range, and the measurements need to be taken during typical work situations.
If measurements indicate that employee noise exposures equal or exceed the action level, then the campus is required to develop and administer a continuing and effective hearing conservation program as described in 29 CFR 1910.95.
The OSHA permissible exposure limit is 90 dBA TWA was set 1971. Note that NIOSH has a best practice recommendation of a Recommended Exposure Limit (REL) of 85 dBA TWA, reaffirmed in a 1998 study. Also, NIOSH recommends a different exchange rate than OSHA. The effect of this is that at sound levels above 90 dBA, there are differences in length of employee exposure between the regulation and best practice recommendation (see summary comparison here and here).
University of Wisconsin System campuses can contact the Office of Risk Management to discuss options for monitoring and measuring noise exposures.
Audiometric testing program
Audiometric testing monitors an employee's hearing over time. It also provides an opportunity for employers to educate employees about their hearing and the need to protect it.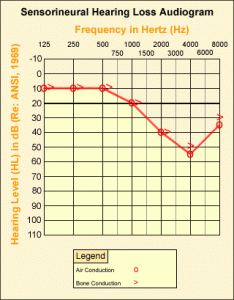 If you are required to have a hearing conservation program, then you must maintain an audiometric testing program. The important elements of the program include:
Baseline audiograms – The baseline audiogram is the reference audiogram against which future audiograms are compared. Campuses must provide baseline audiograms within 6 months of an employee's first exposure at or above the action level.
Annual audiograms – Employers must provide annual audiograms within 1 year of the baseline. It is important to test workers' hearing annually to identify deterioration in their hearing ability as early as possible. This enables employers to initiate protective follow-up measures before hearing loss progresses. The annual audiograms must be compared to the baseline audiograms to determine whether the audiogram is valid and whether the employee has lost hearing ability or experienced a standard threshold shift (STS).
Follow-up procedures – The follow-up should indicate whether the hearing conservation program is preventing hearing loss. For any employee showing an STS, the campus must fit (or refit) the employee with adequate hearing protectors, show the employee how to use them, and require the employee to wear them.
Employers must make audiometric testing available at no cost to all employees in the program.
Hearing protection devices
Hearing protection devices (HPDs) are considered the last option to control exposures to noise. HPDs are generally used during the necessary time it takes to implement engineering or administrative controls, or when such controls are not feasible.
Campuses must make HPDs available to all employees exposed at or above the action level. These must be provided at no cost to employees in the program and must be replaced as necessary.
Employers must ensure that HPDs are worn by employees:
where feasible administrative and engineering controls fail to reduce sound levels within those listed in Table G-16
exposed at or above the action level and who have not yet had a baseline audiogram established
exposed at or above the action level and who have experienced a standard threshold shift (STS)
Recordkeeping
Campuses must keep noise exposure measurements for 2 years, and maintain audiometric test results for the duration of the affected employee's employment.
Areas and personnel affected
This is a list of potential areas, activities or personnel to evaluate for hearing conservation and noise control (not an all-inclusive list):
Activities and areas

Heating/ chiller plant operations
Lawn mowing
Mechanical and wood shops

Personnel

Physical Plant employees having specific exposures, especially facility repair workers, maintenance mechanics, heating plant employees, and groundskeepers.
Written program
Though there is no requirement to have a written hearing conservation program (see question 21 of the May 9, 1994 OSHA Letter of Interpretation), there may be advantages to documenting your program.
Training and employee information
Employee training is very important. Workers who understand the reasons for the hearing conservation programs and the need to protect their hearing will be more motivated to wear their protectors and take audiometric tests. Employees in the hearing conservation program must be trained at least annually in:
the effects of noise;
the purpose, advantages, and disadvantages of various types of hearing protectors;
the selection, fit, and care of protectors; and
the purpose and procedures of audiometric testing.
The training program may be structured in any format, with different portions conducted by different individuals and at different times, as long as the required topics are covered.
For employees in a hearing conservation program, copies of the OSHA noise standard must be available, and a copy of the standard must be posted in the workplace.
Training program and employee information material
Here are some examples to help you create or enhance your campus training material.
Regulations, interpretations and standards
OSHA
OSHA Letters of Interpretation.
Environmental Protection Agency (EPA)
Wisconsin Department of Safety and Professional Services
The Wisconsin Department of Safety and Professional Services (DSPS) adopted OSHA's occupational noise control standard as the rule for public employees in Wisconsin. No modifications or amendments were adopted.
Consensus standards /other recommended practices
American National Standards Institute (ANSI)
A10.46-2007, Hearing Loss Prevention in Construction and Demolition Workers. Applies to all construction and demolition workers with potential noise exposures (continuous, intermittent and impulse) of 85 dBA and above.
S3.1-1999 (R2008), Maximum Permissible Ambient Noise Levels for Audiometric Test Rooms. Specifies maximum permissible ambient noise levels (MPANLs) allowed in audiometric test rooms.
S3.44-1996 (R2006), Determination of Occupational Noise Exposure and Estimation of Noise-Induced Hearing Impairment.
S3.6-2010, American National Standard Specification for Audiometers.  Includes specifications and tolerances for audiometers and standard reference threshold levels for audiometric transducers.
S12.6-2008, Methods for Measuring the Real-Ear Attenuation of Hearing Protectors. Specifies laboratory-based procedures for measuring, analyzing & reporting passive noise-reducing capabilities of hearing protection devices.
S1.4-1983 (R2006), American National Standard Specification for Sound Level Meters. Establishes performance and accuracy requirements for sound level meters.
S1.25-1991 (R2007), American National Standard Specification for Personal Noise Dosimeters. Contains specifications for performance characteristics of personal noise dosimeters.
American Conference of Governmental Industrial Hygienists (ACGIH)
ACGIH has established exposure guidelines for occupational exposure to noise in their Threshold Limit Values (TLVs) (85 dBA PEL with a 3 dBA exchange rate).
National Institute for Occupational Safety and Health (NIOSH)
World Health Organization (WHO)
Reference material, files, and websites
NIOSH
Music induced hearing loss. "These Go To Eleven," an article on the NIOSH Science Blog (Jan. 25, 2011).
OTHER
Howard Leight has a good collection of educational material about the risks, dangers and consequences of noise-induced hearing loss (NIHL).
3M™ Auditory Transduction. A seven-minute video depicting how physical sound creates the nerve impulses that are experienced in the human brain.
Fundamentals of Industrial Hygiene, 5th edition, 2002 (Ch. 9, Industrial Noise, by John J. Standard).
Reference material for this webpage
Disclaimer
This publication was prepared for environmental, health and safety staff at University of Wisconsin System campuses, to assist in finding resources and information for regulatory compliance. It is not intended to render legal advice.