Overview
Ladders of different types, makes and models are used every day by University of Wisconsin System employees to perform work at elevated locations.
Key topics to understand for safe portable ladder use are ladder selection, inspection, setup, use, and storage.
Other equipment that allows employees to work at height includes scaffolds and various aerial platform lifts (mast lift, scissor lift, and boom lift, etc.); these are not covered here.
Areas and personnel affected
Ladder use by employees is widespread on campuses, and these requirements apply to all employee use of ladders.
Training and employee information
Campuses must train all employees to recognize hazards related to ladders and stairways, and instruct them to minimize these hazards. For example, campuses must ensure that each employee is trained by a competent person in the following areas, as applicable:
Nature of fall hazards in the work area;
Correct procedures for erecting, maintaining and disassembling the fall protection systems to be used;
Proper construction, use, placement and care in handling of all stairways and ladders; and
Maximum intended load-carrying capacities of ladders used.
Campuses must retrain each employee as necessary to maintain their understanding and knowledge on the safe use and construction of ladders and stairs.
Employee information and training material
Here are some examples to help you create or enhance your campus training material.
OSHA — Recent publications are targeted to construction workers, but are still very useful for general industry work.
American Ladder Institute — The American Ladder Institute offers a Ladder Safety Online Training website. This free training site provides the proper techniques to select, inspect, set-up, use and care for the various ladder styles. If you check the "Training Manager" box when registering, you will be allowed to setup and manage training participants, as well as review their progression and test scores.
Werner Climbing Pro — Werner has an online Ladder Safety training video that covers selection, inspection, handling and use of ladders.
Center for Construction and Research Training — Single-page bilingual visual reminder of 7-Steps-to-Ladder-Safety
OR-OSHA Occupational Safety and Health Program in Spanish — Bilingual training material for employers with Hispanic workers,
University of Wisconsin System campuses – examples of information and training material
Inspection
Here is a sample checklist:
Regulations, interpretations and standards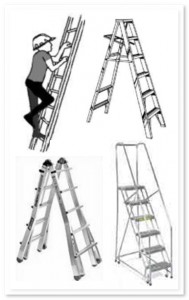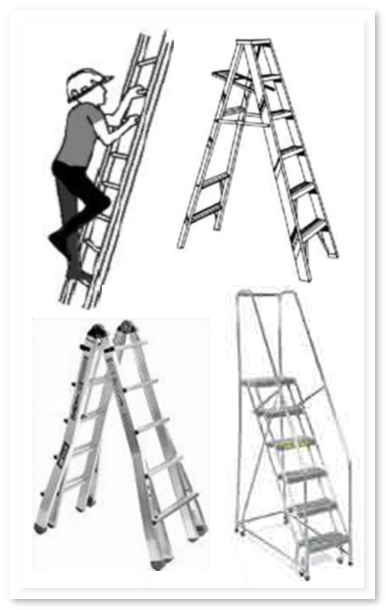 The OSHA rules for ladder use are summarized in many places; we recommend Stairways and Ladders: A Guide to OSHA Rules, pages 4-7, and Defective Ladders on page 12. For a summary of fixed ladder requirements, see pages 7-12 of the same publication.
Current OSHA rules cover fixed ladders, portable wood ladders and portable metal ladders. Furthermore, some of the activities done while using ladders are considered to be construction activities and are therefore covered under a different section of the regulations.
Wisconsin Department of Safety and Professional Services
The Wisconsin Department of Safety and Professional Services (DSPS) creates and enforces occupational safety and health rules for public employees in Wisconsin. DSPS has adopted OSHA's General Industry and Construction standards, including the standards listed below that apply to ladders. DSPS has also amended some rules that may pertain to ladders. These amendments are in the Wisconsin Administrative Code at SPS 332.22 and SPS 332.23. In summary, these amendments do the following:
Extends the coverage of OSHA rules to portable fiberglass ladders.
Requires that ladder safety shoes be installed on all portable ladders, and reinforces the requirement for secure footing.
Clarifies that when using any portable ladder to gain access to a roof, floor or platform, the top of the ladder must extend at least 3 feet above the point of support.
Adds a requirement that fixed ladders of substandard pitch (60 to 75 degrees of horizontal, as defined in §1910.27(e)(2)) be equipped with handrails on both sides.
OSHA
The federal Occupational Safety and Health Administration (OSHA) standards individually linked below are the most current version published on the OSHA website. Sometimes, these standards will have been revised since DSPS adopted the July 1, 2003 version of the OSHA rules. Here is the July 1, 2003 version of General Industry subpart D and Construction subpart X.
General Industry (29 CFR 1910) Subpart D–Walking-Working Surfaces
Construction Industry (29 CFR 1926) Subpart X–Stairways and Ladders
 Consensus Standards
ANSI A14.1-2000, Portable Wood Ladder Safety Requirements
ANSI A14.2-2000, Portable Metal Ladder Safety Requirements
ANSI A14.5-2000, Portable Reinforced Plastic Ladder Safety Requirements
Reference material, files, and websites
General reference on this topic
Workplace Solutions: Preventing Worker Deaths and Injuries from Contacting Overhead Power Lines with Metal Ladders—NIOSH Publication No. 2007-155 (September 2007). The National Institute for Occupational Safety and Health (NIOSH) developed these recommendations to prevent injuries and deaths while working with metal ladders.
ANSI/OSHA Ladder Requirements. Grainger Safety, Quick Tips Technical Document 132.
Reference material for this webpage
Stairways and Ladders: A Guide to OSHA Rules. Occupational Safety and Health Administration (OSHA), publication OSHA 3124-12R 2003.
Portable Ladders. OR-OSHA . PESO 31 Toolbox Sheet.
Disclaimer
This publication was prepared for environmental, health and safety staff at University of Wisconsin System campuses, to assist in finding resources and information for regulatory compliance. It is not intended to render legal advice.