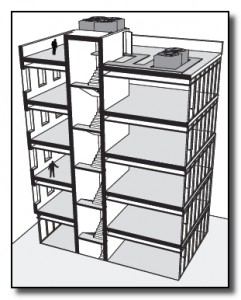 Indoor air quality (IAQ) can be a concern to UW System campuses because of the impact on the health, comfort, well-being, and productivity of the staff, students and visitors.
This page provides some helpful references and resources for both specialists in campus occupational health and safety, and facilities maintenance managers. Our office is also available to assist UW System campuses with problematic IAQ issues.
IAQ problems can arise from a single source or any combination of factors, including:
Building Site or Location
Building Design
Building Systems Design and Maintenance
Renovation Activities
Local Exhaust Ventilation
Building Materials
Building Furnishings
Building Maintenance
Occupant Activities
In addition to numerous generators of IAQ problems, there are also numerous indoor air pollutants that can be generated. However, they typically fall into three basic categories: biological, chemical, and particulate.
IAQ overview for employees
Indoor air quality, or IAQ, refers to the indoor working environment on campus. Where building ventilation systems are unable to keep indoor working areas within certain measurements these areas are sometimes referred to as having "poor indoor air quality".
In general, an area with "good" indoor air quality will have air temperatures between 73°F and 79°F in the summer or between 68°F and 75°F in the winter, relative humidity levels between 30% and 60%, carbon dioxide levels below 1075 ppm, carbon monoxide levels lower than 9 ppm, and no obvious drafts or offensive odors.
IAQ concerns frequently peak on campus in late spring and early autumn, as the heating and cooling systems are changing over for the new season. Air temperatures during these change‐over periods are frequently uncomfortable and poorly regulated, especially in older facilities. Relative humidity levels can get very low in some buildings on campus during the heating season, leading to eye and throat irritation due to the dryness of the air. Fortunately, our facilities maintenance staff are very aware of what makes good IAQ and they work hard to keep things in good shape for building occupants.
Reference material, files, and websites
General reference:
Indoor Air Quality in Commercial and Institutional Buildings. Occupational Safety and Health Administration; publication OSHA 3430-04; 2011.
Building Air Quality: A Guide for Building Owners and Facility Managers. EPA and the National Institute for Occupational Safety and Health; ISBN 0-16-035919-8; December 1991.
An Office Building Occupant's Guide to Indoor Air Quality. EPA. Publication #EPA-402-K-97-003; October 1997.
Mold Remediation in Schools and Commercial Buildings. Environmental Protection Agency (EPA). Publication # EPA 402-K-01-001; September 2008.
Mold: Information for Wisconsin Residents. Wisconsin Department of Health Services.
Indoor Environmental Quality. Centers for Disease Control and Prevention.
Material from the higher education sector:
Disclaimer
This publication was prepared for environmental, health and safety staff at University of Wisconsin System campuses, to assist in finding resources and information for regulatory compliance. It is not intended to render legal advice.