General description
Portable fire extinguishers are a tool for suppression of fire in its incipient phase, and are present in UW System facilities.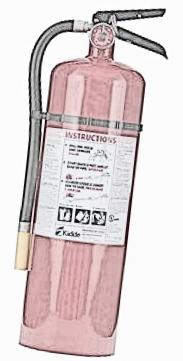 The most common fire extinguisher uses a dry chemical powder to extinguish flames, while some use pressurized water or wet chemicals. Other extinguishers use carbon dioxide. Carbon dioxide extinguishers can be used on electrical fires, as they do not leave a residue which might damage electrical equipment, but they should not be used in confined spaces where the carbon dioxide may replace oxygen. Each type of extinguisher is to be used to put out a specific type, or "class," of fire.
Class A: Regular combustibles such as wood, cloth and paper
Class B: Flammable liquids such as gasoline, oil and certain paints
Class C: Electrical fire such as over-heating electrical wires
Class D: Combustible metals such as titanium, sodium or magnesium
Class K: Food products such as certain cooking oils and animal fats
The National Fire Protection Association (NFPA) states that all portable fire extinguishers be inspected on a monthly basis (NFPA 10, Section 6.2.1) and maintained by a licensed fire protection company on an annual basis. (NFPA 10, Section 6.3.1) Monthly inspections include ensuring that the extinguisher has enough pressure to work properly, that the extinguisher is in its designated place and has not been used, and that the extinguisher contains no obvious defects such as puncture holes, corrosion, or broken or missing parts.
All fire extinguishers must also be readily accessible to these properly trained employees. Inaccessible fire extinguishers allow small fires to grow into large ones, causing a portable fire extinguisher to no longer be sufficient.
General regulatory citations and referenced standards
NFPA 10 — Standard for Portable Fire Extinguishers
NFPA 1 — Fire Code
29 CFR 1910.157 — Portable Fire Extinguishers
29 CFR 1910.157 was adopted into the Wisconsin Public Safety and Health chapter SPS 332 without amendment.
Training requirements
The paragraph (g) training requirements for portable fire extinguishers were explained in an OSHA letter of interpretation dated September 12, 1986, and corrected 2/27/2004. In summary, what it means for our campuses:
If the campus chooses to require total evacuation of employees from the workplace upon the sounding of a fire alarm, and fire extinguishers are provided but not intended for employee use: The campus must comply with the requirements in 29 CFR 1910.157(e) and (f) concerning inspection, maintenance and testing the portable extinguishers. The campus must also establish an emergency action and fire prevention plan meeting the requirements of 29 CFR 1910.38 and 1910.39. In this case, there is no training requirement for use of portable fire extinguishers.
If the campus provides portable fire extinguishers and designates certain employees as authorized to use them to fight fires: The campus must comply with the requirements in 29 CFR 1910.157(c), (e), (f), (g)(3) and (g)(4) regarding general requirements for fire extinguishers as well as inspection, maintenance and testing, hydrostatic testing, and employee training. All other employees in the fire area must be required to evacuate the affected area immediately upon the sounding of a fire alarm. This choice requires the campus to establish an emergency action plan meeting the requirements of 29 CFR 1910.38.
If the campus provides portable fire extinguishers and permits all employees to use them to fight fires: The campus must comply with all the requirements in 29 CFR 1910.157 for the placement, use, maintenance, testing, training and education in the use of the portable fire extinguishers. 29 CFR 1910.157(g)(1) and (2) requires that, where an employer has provided portable fire extinguishers for employee use in the workplace, the employer shall also provide an educational program to familiarize employees with the general principles of fire extinguisher use and the hazards involved with incipient stage fire fighting and training in the use of appropriate equipment. The education shall be provided upon initial employment and at least annually thereafter.
Training
Examples of training material that would supplement hands-on training.
University of Wisconsin-Stout — Fire Extinguisher Training
FireExtinguisher.com —  Well produced on-line material.
Other resources
University of Wisconsin-Madison — Fire Extinguisher program page
Eastern Washington University — Fire Extinguishers: An employee information brochure.
US Fire Administration
RLGA Technical Services LLC — The Code Corner: Portable Fire Extinguishers
Disclaimer
This publication was prepared for environmental, health and safety staff at University of Wisconsin System campuses, to assist in finding resources and information for regulatory compliance. It is not intended to render legal advice.