General description
Wisconsin Statute 101.055 grants representatives of the Department of Safety and Professional Services (SPS) the right to inspect any public sector place of employment in order to determine whether an employer is in compliance with the Department's safety and health standards.
Wisconsin Administrative Code also covers public employee safety in SPS 332.
Required postings
Hazardous Chemicals in the Workplace Poster
Public Employee Safety and Health Poster
Other information
Wisconsin Permissible Exposure Limits (PEL's) —Wisconsin's public employees are protected from air contaminants per Comm 32.35, which references OSHA's PEL's from 1992, which in some instances are more stringent than current OSHA PEL's.
Inspections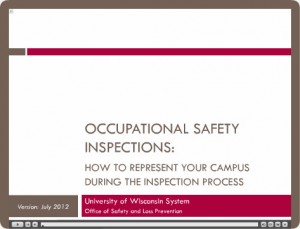 Here is an audio training presentation to help supervisors and managers to be prepared for a campus workplace inspection by SPS. (Note that the slide show still refers to the Dept. of Commerce — those safety duties and procedures transferred to the Department of Safety and Professional Services in 2011.)
You will need the UW System-SPS Inspection Checklist (version 120412) to follow along.
Disclaimer
This publication was prepared for environmental, health and safety staff at University of Wisconsin System campuses, to assist in finding resources and information for regulatory compliance. It is not intended to render legal advice.