Overview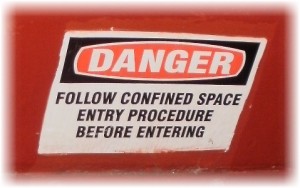 A confined space is an area with a limited or restricted means for entry or exit, and it is not designed for continuous employee occupancy. Examples of confined spaces include, but are not limited to, underground vaults, tanks, storage bins, manholes, pits, silos, process vessels, and pipelines. This safety program focuses on spaces with immediate health and safety risk, denoting them as "permit-required confined space" (permit space). Permit spaces have one or more of the following characteristics:
contains or has the potential to contain a hazardous atmosphere;  
contains a material that has the potential to engulf an entrant;  
has walls that converge inward or floors that slope downward and taper into a smaller area which could trap or asphyxiate an entrant; or  
contains any other recognized safety or health hazard, such as unguarded machinery, exposed live wires, or heat stress.  
Confined space regulations include provisions for identification of confined and permit required confined spaces, adoption of a written program, implementation of a permit system for entry into the space, designation of personnel roles, training, and other items.
Areas and personnel affected
Anyone entering a permit required confined space must be trained and follow the requirements of the campus confined space program. The types of employees most likely to be involved in confined space entry activity on your campus include:
Personnel involved in facility and building maintenance, including athletic, residence, and student union facilities.
Researchers and research staff.
Agricultural research/ farm staff.
The following spaces should be evaluated for confined space/ permit required confined space determination and added to the campus confined space program and inventory.
Potential confined spaces
Elevator pits
Electrical vaults
Grease pits
Livestock/manure pits
Manholes
Signal pits
Steam pits
Sump pits
Ventilation wells (or vaults)
Water meter pits
Acid neutralization tanks
Water tanks
Swimming pool surge tanks
Air tanks
Brine tanks
Fuel tanks
Condensate receiving tanks, etc.
Hazardous chemical exhaust from a chemistry or biology lab
AHU and exhaust ducts from rifle range
Agricultural silos and hoppers
Heating/steam plants – sifting hoppers
Boilers
Incinerators
Ovens
Steam tunnels
Building crawl spaces
Utility chases
Swimming pools (empty, for cleaning and maintenance)
Cooling towers
Training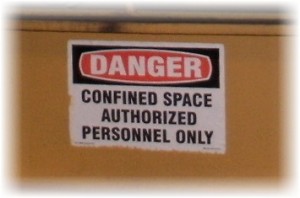 The OSHA permit-required confined spaces standard is performance-based; therefore, the campus training program needs to give all employees working in permit-required confined spaces the understanding, knowledge, and skills necessary for the safe performance of their job in that space.
Initial training must be successfully completed prior to any job assignment within a permit-required confined space.
Refresher training must be successfully completed when:
New or revised program procedures are implemented.
An employee's confined space entry duties change.
Changes in an employee's job present hazards for which he/she has not yet been trained.
Deviations from program procedures or inadequacies in the employee's knowledge of the program are identified.
The training is required to establish employee proficiency in the program duties. The campus must certify successful completion of the training. The certification must include the employee's name, the signature or initials of the trainer, and the dates of training. The certification shall be available for inspection by employees and their authorized representatives.
Training program examples
Regulations, interpretations and standards
Chapter SPS 332, Public Employee Safety and Health of the Wisconsin Administrative Code adopts the OSHA General Industry Standard (29 CFR 1910) and the OSHA Construction Standard (29 CFR 1926). The Wisconsin Department of Safety and Professional Services has enforcement authority over these regulations.
OSHA
29 CFR 1910.146, Permit-required confined spaces
OSHA Letters of Interpretation.
Wisconsin Department of Safety and Professional Services
The Wisconsin Department of Safety and Professional Services has additional requirements for public employees working in confined spaces.
SPS 332.28 Permit−required confined spaces. These rules for permit-required confined spaces address calibration of sampling devices, how to sample spaces accessed by a manhole cover, air monitoring of entrants, and first aid/ CPR training.
SPS 232.29 Confined spaces. These rules for all confined spaces address work in streets adjacent to confined spaces and prohibitions on smoking, open flames, and entry into spaces with certain combustible gas levels.
Consensus Standards
ANSI Z117.1-2009 Safety Requirements for Confined Spaces — MSA provides a summary of the 2009 standard update.
NFPA 1670: Standard on Operations and Training for Technical Search and Rescue Incidents.
Reference material, files, and websites
Confined Space Manure Storage Ventilation Systems — Penn State Extension, Fact Sheet E53, September 2011.
California State University, Fresno — Written confined space program
Northern Arizona University — Written confined space program
Robert Morris University — Confined space safety entry policy. Contains a good example of a confined space inventory, with photos, specific hazards and required entry equipment.
Western Kentucky University — Includes links to permits and confined space inventory
Disclaimer
This publication was prepared for environmental, health and safety staff at University of Wisconsin System campuses, to assist in finding resources and information for regulatory compliance. It is not intended to render legal advice.