General description
Hazards relative to use of bleachers involve the structural strength and stability of the structure, and the safety of the people using the structure. Many of the safety concerns involve falls on, through, or off of the structure.
Regulatory citations and standards
Safety requirements for bleachers have evolved over the years. Existing bleachers have requirements related to administration, maintenance and repairs, guards, and open spaces at footboards and seatboards.
University of Wisconsin System campuses with bleachers need to follow Department of Safety and Professional Services regulations at SPS 361.03, which references an ICC standard.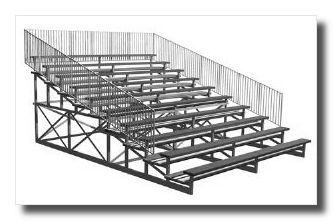 SPS 361.03 (13) EXISTING BUILDINGS AND STRUCTURES.
(a) Unless otherwise specifically stated in this code, an existing building or structure, and every element, system, or component of an existing building or structure shall be maintained to conform with the building code provisions that applied when the building, structure, element, system, or component was constructed, or altered except when required by subsequent editions of the building code.
(b) Existing bleachers, grandstands and folding and telescopic seating shall comply with ICC 300-02.
ICC Standard for Bleachers, Folding and Telescopic Seating, and Grandstands is available for reading.
Overview of requirements
Campuses will need to follow the specific requirements in the ICC Standard for Bleachers, Folding and Telescopic Seating, and Grandstands.
In general, campuses will have to meet the following requirements:
Inspections must be done at least once a year, by a qualified person
Folding and telescopic seating—inspect for compliance with operational instructions, including inspection while opening and closing the seating
Floor or ground bearing must be able to uniformly support the bleacher.
Components, fasteners and systems need to be present and in proper working condition, and should not be broken, damaged or badly deteriorated.
Materials should be able to withstand environmental elements to which they are exposed (weather for outdoor seating, corrosion for indoor swimming pool seating).
Guards, openings and open spaces should be in compliance with the specifications of the standard.
Disclaimer
This publication was prepared for environmental, health and safety staff at University of Wisconsin System campuses, to assist in finding resources and information for regulatory compliance. It is not intended to render legal advice.