All documents, forms, and templates referred to on this page that are available for download are included at the bottom of the page for your convenience. These files are also available for download in the comprehensive Document Guide.
---
Property Acquisition
Property is typically acquired by purchase, through negotiation with a willing seller. Although the Board of Regents (BOR) has eminent domain authority to acquire land, condemnation will only be used in the rare circumstance that the university is unable to purchase critical parcels through a normal process. Most acquisitions are contiguous to provide for continuous land holdings, eliminate encroachments of incompatible uses, and align with campus master planning activities. Since General Fund Supported Borrowing (GFSB) is very limited, use of this fund source to acquire land is highly unlikely. Therefore, most land acquisitions will be funded by program revenue funding, either cash or Program Revenue Supported Borrowing (PRSB).
Property may also be acquired by a donation, either from an individual entity or from a university foundation. However, potential donations, particularly of non-contiguous parcels, need to be assessed for environmental conditions or restrictions on use, potential programmatic or development value of the land to the institution per strategic plans, and potential long-term costs associated with owning the property.  Donated land must provide a demonstrated value to the university, and the institution will need to develop a management plan that includes care of the parcel, in order for the donation to be accepted. Per Wis. Stat. §13.48(2)(b)(1m) donations of property exceeding $150,000 require State Building Commission (SBC) approval, and acceptance of the gift by the BOR.
Occasionally, property is acquired through an exchange of parcels. Typically, land exchanges will be mutually beneficial, but must at least be neutral to the university, including valuation and size. Often land exchanges will create a more regular shape of land holdings, or allow for development that could not otherwise occur within existing land holdings. Campus master plans shall include and identify  boundary delineations and obtain BOR approval of potential land areas that could be purchased if parcels were to become available.   If an acquisition will result in a campus boundary change, BOR approval is required.
Property Acquisition Process
Environmental Assessment
SBC policy VIII.E. requires that an "environmental audit" be completed before property is acquired, in order to minimize the possibility and potential costs of owning contaminated property. Both properties with structures and vacant properties should be assessed. A [Property and Real Estate Phase 1 Environmental Assessment] is completed by institution staff. If the Phase 1 assessment results in a determination that there is a likelihood of contamination, a Phase 2 assessment that includes testing of suspected materials must be completed by a consultant. If the Phase 2 assessment reveals that environmental contamination exists and remediation is required, the owner/seller will be required to pay for that work. If the Phase 2 assessment reveals that environmental contamination exists but remediation will not be required, the purchase option should reference the contamination as a pre-existing condition.
Appraisals
Per SBC policy VIII.D., if the value of the property to be acquired is $10,000 or less, no formal appraisal is required. If the value is more than $10,000, but less than $25,000, one appraisal is required. If the value exceeds $25,000, two independent appraisals are required; one of the appraisals must be a full narrative appraisal.
Relocation Assistance
Wis. Stat. 32 stipulates that relocation assistance and payments be made to persons displaced by condemnation of their property. Costs for these requirements will be funded by the same fund source used to acquire the property.
Closing
Prior to closing, all purchases of real property must be approved by the Board of Regents and the State Building Commission.
Property should be transferred to the university, preferably via warranty deed, naming the Board of Regents of the University of Wisconsin System as the owner. UWSA legal counsel will review the deed prior to recording. A record of all University of Wisconsin land transactions is maintained by UWSA.
Insurance Considerations
As soon as the University of Wisconsin takes possession of a property, prompt notice must be given by the institution to UWSA Risk Management to secure insurance coverage. The institution, working with UWSA Risk Management, determines whether to insure the property for the replacement value or the actual cash value (current value–defined as replacement cost less depreciation). Any questions should be forwarded to UWSA Risk Management.
On occasion it may be advantageous to sell property. If the property is non-contiguous and remote from the main campus, maintaining the property may become an operational burden, particularly if the property gets little use. In addition, the property may no longer be necessary in carrying out the university's mission or strategic plan. The university may receive inquiries from persons wishing to purchase property from the university; if the property has little value to the university, a sale of the property may be in order. Wis. Stat. §36.335 allows the university to keep the proceeds of property sales for uses that the university sees fit once all outstanding public debt associated with the property is repaid. Wis Stat. §13.48(14)(am), allows the building commission to sell state property, regardless of whether or not the agency approves of the sale. §16.848(1)(a) also provides DOA with this authority. This authority supersedes the authority of the university to dispose of property. However, §16.848(2)(am) excludes this authority for properties acquired, constructed, or improved with at least 50% federal or gift/grant funding.
In addition, §13.48(14)(d) requires each state agency to report by January 1 of each even year underutilized property. By July 1 of the same year, DOA must obtain appraisals of any of that property that it intends to sell, and report to the State Building Commission an inventory of property identified for sale. Underutilized property may also be reallocated by DOA to other agencies that could use the property. An example would be a university parcel that is adjacent to conservancy land; such a parcel might better be managed as conservancy land than as university land.
Occasionally, land has been donated to the university with restrictions on its use. Disposal of such land shall abide by those deed restrictions or other type of agreement.
Step 1: Assign Staff to Work on the Process
UWSA Legal Counsel and UWSA/Institution facilities planning staff
Step 2: Research and Prepare Building/Parcel
Identify all restrictions on disposal of the property, such as deed, LAWCON (Land and Water Conservation Fund Act) , or historic property
Institution obtains an appraisal.
Step 3 – Identify Transferee
Internal Transfer
If the institution no longer needs the property, the Chancellor sends UWSA a letter declaring the property to be "excess to the needs of the institution."
CPB offers the property to other UW System institutions.  If property is wanted, negotiate appropriate transfer of resources. If not wanted, begin external transfer process
External Transfer
Per Wis Stat. §13.48(14)(a) & (d) the Board of Regents is exempt from the state requirement to offer the property to other state and local government units, but at the option of the BOR, CPB may do so.
If an offer to other government units results in no interest, CPB obtains BOR and SBC authority to sell the excess property.
Per Wis Stat. §44.41(3), if the property is a listed historic property, institution staff work with CPB to provide an Historical Conservation Easement or mitigation plans acceptable to the Wisconsin Historical Society.
The institution offers the property for public sale.
Per Wis. Stat. §36.335, after satisfying the payment of any public debt, the proceeds of any sale go to the institution. (Note that §36.33 applies to certain agricultural land properties.)
Sale of Excess Property Acquired or Developed with Federal Funds
Section 6(f) Requirements
Conflicts with 16 USC Part B §6(f) of the Land and Water Conservation Fund Act of 1965 result when land purchased or developed with federal cost-sharing funds for recreational purposes is converted to a use other than for which it was originally purchased. When a portion of a recreational area receives assistance under the LAWCON Fund, this automatically subjects all property within the area to §6(f). A conversion of land use can occur for the following reasons:
Granting control of the land to another party that would result in uses other than outdoor recreation as was approved by the federal government for activities such as construction and/or maintenance of a utility line, pipeline, irrigation ditch, road, or other similar facility.
Constructing or installing structures or facilities by the campus or others on lands considered within the project scope that would not be compatible with existing uses or would result in use other than that acknowledged and approved by the Department of the Interior. An example would be construction of buildings or parking lots.
Approval from the Secretary of the Interior shall be obtained by the Department of Natural Resources Office of Intergovernmental Programs before any land which is in §6(f) conflict can be sold, traded or control relinquished.
It will be necessary to provide replacement land for any land considered to be in §6(f) conflict. The replacement land shall be of equal value and reasonable equivalent usefulness.
For Sale, Trade or Division of Real Property Acquired with LAWCON Funds Prior to Processing Transactions, CPB reviews information prepared by the institution concerning §6(f) conflict for submittal to the DNR and containing the following documentation:
Maps illustrating the location of the fund-assisted land that would be taken or converted.
The location of the proposed replacement land including appropriate site plans or parcel maps.
Assurances by the state that the land proposed for substitution is of at least equal fair market value and of reasonably equivalent usefulness to the land to be taken or converted. Land values shall be based on appropriate appraisals meeting federal standards.
The institution shall submit an environmental assessment to the System environmental affairs program manager.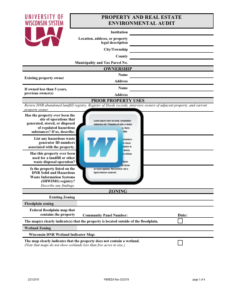 Property and Real Estate Environmental Audit
Description:  Environmental assessment of proposed property or real estate acquisition.
Purpose:  Records self-performed and preliminary environmental assessment to minimize the possibility and associated costs of owning contaminated property. Includes recommendations for additional testing, analysis, and actions (i.e. Phase II assessment or remediation and re-evaluation prior to acquisition). Includes address, tax parcel identifier, parcel description, zoning designation, floodplain and wetland designations, and hazardous materials findings.
Audience:  UW System Administration, Division of Facilities Development and Management.
Revision ID: Rev 2019-01