Building Condition Functional Rating
Chapter 5: Data Analysis and Reporting
5.5.5   Space Suitability
The coding of space suitability is intended to reflect a judgment about how well the design of a space supports the function of the space and the organizational unit to which the space is assigned. This evaluation of space suitability for its assigned use focuses on a different dimension than the coding of building condition, which generally assesses the useful life of a building through the evaluation of structural and building systems. Suitability coding is also different from the coding of space condition, which may assess the need for the space to be repaired, upgraded, or renovated based solely on the physical condition of the space. Assessment of space suitability is not required for the initial task of performing a space inventory.
It is entirely possible that the evaluation of space suitability may reflect an evaluation that seems to conflict with the evaluation of building condition. For example, a space such as a geography class laboratory could be evaluated as satisfactorily suited for its existing use, even though the building in which the space is located could be rated as requiring major remodeling due to the age and condition of utility or structural systems. Conversely, a similar laboratory, being used as an office, located in a building that is in excellent condition, may be rated as having an unsuitable use.
Definition:   The suitability or functionality of the space for its assigned use at the time of the inventory or audit.
Basis for Classification:   The evaluation of a space for functional suitability should be based on the judgment of a departmental representative (rather than the individual user assigned to the space) and the institution's facility planning or physical plant personnel. Only permanent architectural features and fixed equipment should be considered in rating the space's suitability; the configuration, age, condition, or amount of movable furniture and equipment should not affect the rating. The rating of space suitability can change significantly from one inventory or audit date to the next if, in the intervening period, the space has been reassigned to a different function or organizational unit, even though no physical alterations have been undertaken.
Coding:   The following categories may be used to designate space suitability.
| | | |
| --- | --- | --- |
| Code | Rating | Rating Description |
| A | Excellent, Highly Suited | Highly suited or optimally matched to the original design intent and configuration of the space. The architectural features of the space support the use/activity. Appropriate building infrastructure and services are easily and readily available to support the use. The approximate remodeling cost is less than 5 percent of building replacement value. |
| B | Satisfactory | Suitable for continued use and provides adequate support for program delivery. Although the space is not optimal for the use, minor modification may be desired to improve the suitability. The approximate remodeling cost is 5-15 percent of building replacement value. |
| C | Conditional | Requires limited renovation to support the use on a continued basis. The approximate remodeling cost is 15-25 percent of building replacement value. |
| D | Development Required | Requires significant renovation to support the assigned use on a continuing basis. The space significantly inhibits program delivery. The approximate remodeling cost is 25-50 percent of building replacement value. |
| F | Unsatisfactory | Is unsatisfactory for the assigned use. Renovating the space to fit the use would not be cost-effective. The approximate remodeling cost is 50-100 percent of building replacement value. |
| I | Inappropriate | Not appropriate for current use but may be appropriate for other uses. It may be appropriate to relocate the activity to another location and use this space for more suitable activity. |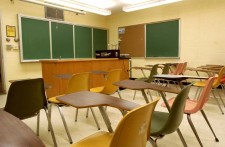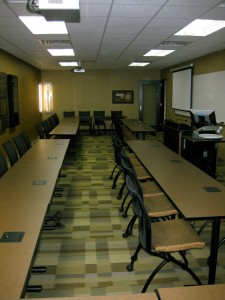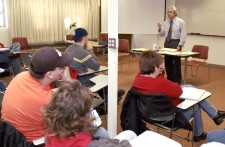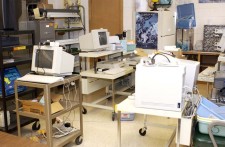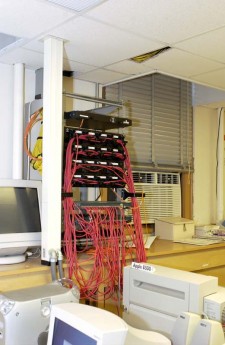 Building Condition Physical Rating
Chapter 5: Data Analysis and Reporting
5.5.4   Building Condition
5.5.6   Room or Space Condition
Definition:   The physical status of the building at the time of the inventory or audit, based on the best judgment of those persons familiar with the physical characteristics and condition of the campus.
Derivation:   The most useful facilities management information is produced when the inventory or audit rates each subsystem or space within a building. This approach documents the rating of each space or subsystem, as well as the overall composite rating of all spaces and all subsystems within a building, and provides information about needed repairs or replacements. A facilities audit should tie space, subsystem, and overall composite ratings to the estimated building replacement value to provide a rough estimate of the cost of rehabilitating or renovating the facility, space, or subsystem.
Description:   Building condition has the following categories based on the extent of renovation or restoration required:
| | | |
| --- | --- | --- |
| Code | Rating | Rating Description |
| i | Good | Suitable for continued use with normal maintenance. The approximate restoration cost is less than 5 percent of building replacement value. |
| ii | Satisfactory | Requires restoration to present acceptable conditions. The approximate restoration cost is 5–15 percent of building replacement value. |
| iii | Fair | Requires updating or restoration. The approximate restoration cost is 15–30 percent of building replacement value. The physical conditions may have an affect upon building operations. |
| iv | Poor | Requires significant updating or restoration. The approximate restoration cost is 30–45 percent of building replacement value. The physical conditions adversely affect building operations. |
| v | Unsatisfactory | Requires major restoration with possible need to overhaul building subsystems. The approximate restoration cost is 45–60 percent of building replacement value. Consideration of actual restoration requirements may lead to classifying the facility as being in need of replacement. |
| vi | Replace | Should be demolished or abandoned because the building is unsafe and/or structurally unsound, irrespective of the need for the space or the availability of funds for a replacement. Additionally, this category takes precedence over categories i-v. If a building is scheduled for demolition, its condition is reported in this category, regardless of condition. |
| vii | Termination | Planned termination or relinquishment of occupancy of the building for reasons other than unsafeness or structural unsoundness, such as abandonment of temporary units or vacating of leased space. Additionally, this category takes precedence over categories i-vi. If a building is scheduled for termination, its condition is reported in this category, regardless of its condition. |