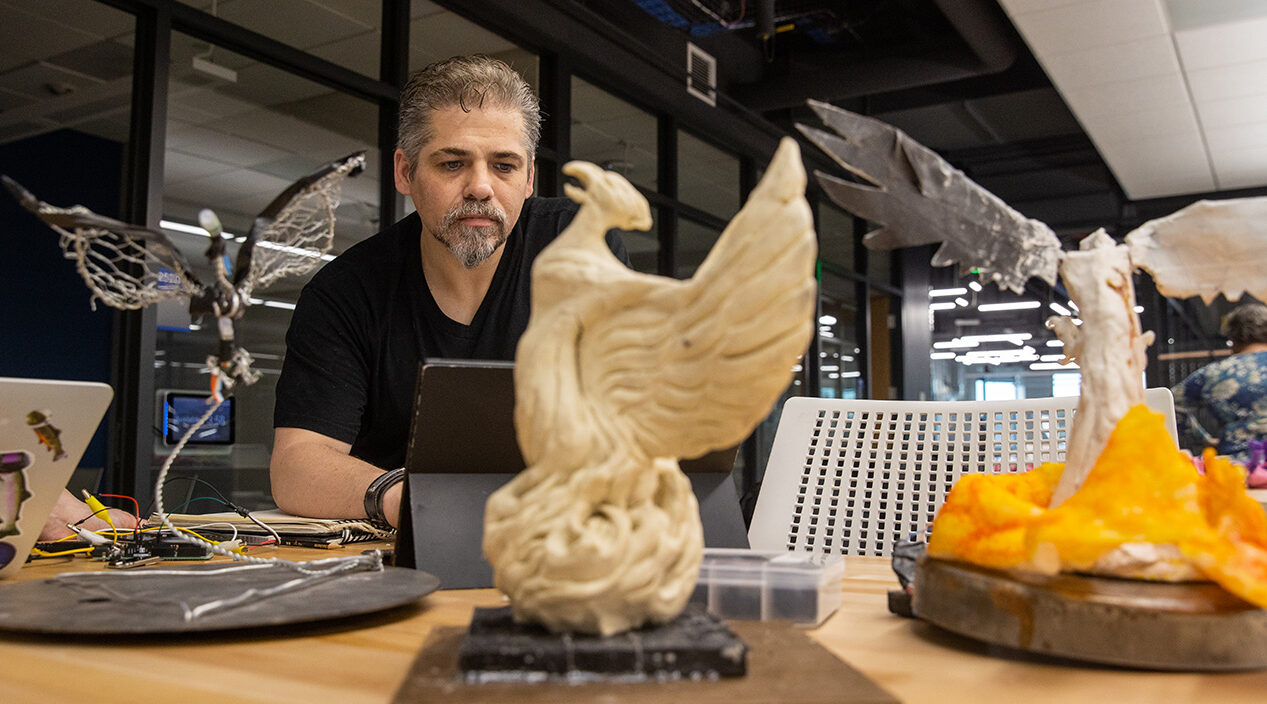 An illustrator by trade, Jacob Muller didn't expect to be working with cutting-edge technology while earning his Bachelor of Fine Arts. But, an Undergraduate Research, Scholarly and Creative Activity Scholarship is allowing him to delve into a project that leverages his design skills and new technology – including equipment in the University of Wisconsin-Platteville's new Huff Family Innovation Center. As part of his project, Muller is recreating a two-dimensional drawing into sculpture and as many different mediums as possible.
Muller, who also has an interest in mythology, selected the phoenix as his subject – a mythical bird that symbolizes rebirth.
"The phoenix seemed like a likely subject to have," said Muller. "The fact that [my project] is going to be redone over and over again is like the phoenix dying and being reborn again. When I took my work from a two-dimensional drawing into a sculpture, it was difficult, but then I had to scrap everything and do it again, let alone in another material."
Muller, who is originally from Madison, Wisconsin, initially earned an Associate of Arts in illustration and design from Madison Area Technical College in 2006 and has worked the past 15-plus years in the field of art and graphic design, before returning to higher education. He draws parallels between his life changes and the symbolism of the phoenix.
"It's also like me starting a new chapter in my life, coming back to earn my Bachelor of Fine Arts after all this time," said Muller. "I see it in others too; [traditional students] who are starting new here, moving out of their house for the first time."
The different mediums Muller has used to recreate the phoenix so far include two-dimensional drawings and paintings; an oil based clay sculpture; an earthenware clay sculpture, a model made of thermoplastics, complete with LED-light arrays, sensors and microcontrollers; and 3D printed in a clear resin. The most visible display was his 10-foot snow sculpture of the phoenix when he took part in last month's Winter Arts Snow Sculpting Festival in Dubuque, Iowa.
"The Art Department got me into things I never thought I'd be into – expressing some of these stories in different ways, whether in painting, sculpture, puppetry or computer illustration. It's great how diverse things are," said Muller.
Muller said one of his favorite parts of the project has been its collaborative nature.
"A lot of our work as graphic designers and artists – illustrators, particularly – and even as students here in general is very independent. It's you and your work. This project has involved a lot of people," said Muller, referring to his faculty advisor on the project, Scott Steder, lecturer of art; professional and student staff in the Huff Family Innovation Center; and even faculty in the History Department he consulted with for historical background.
"I hope this inspires people to come back to school and start out again," said Muller. "It shows 'old dogs can learn new tricks.' I never thought I'd be learning about cutting-edge technology. A lot of this equipment is brand new – even to kids who know about this stuff. We are at the front-edge of this, and that says a lot about the school and the teachers too."
---
Written by Alison Parkins
Link to original story: https://www.uwplatt.edu/news/muller-combines-innovation-new-technology-bring-drawings-page